Due to the amazing advances made in the professional cosmetic industry, you can now wake up and walk out the door without applying a stitch of makeup but still look like you've stood in front of a mirror, artfully touching up your face for the greater part of the morning. It's treatments like microblading, eyelash extensions, filler, and even tattooed eyeliner which semi-permanently alter your appearance just as a makeup pencil, concealer, and mascara wand would—but for an extended period of time, with no removal and reapplication necessary.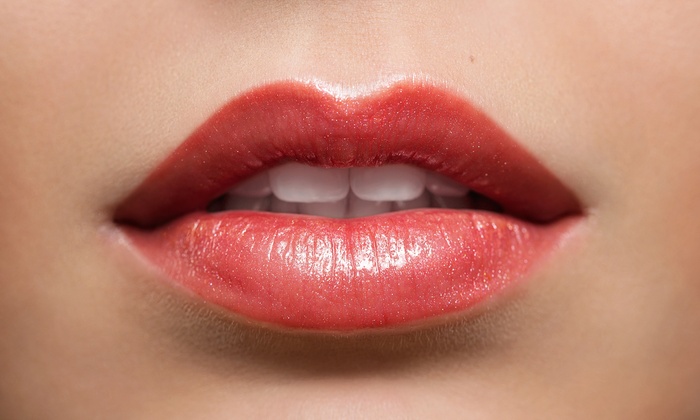 Each is expensive, to be sure, but imagine the time you'd have back every day that you normally spend getting ready. And if you could extend that laissez-faire approach to your lips? Consider a daily wash of lipstick that never wipes off, come coffee or high water. According to Christopher Drummond of PFrankMD Skin Salon in New York City, this is possible with lip blushing.
What exactly is lip blushing?
First off, it isn't like the permanent makeup of the aughts. "Traditional permanent makeup (PMU) uses a strong machine, synthetic pigments, and is embedded deep in the dermis," explains Drummond. "The PMU of today is very different. We use organic pigments and modern, digital tools. The results are much more natural looking." By deepening the color of your lips, you're creating a fuller, healthier look.
How do you choose your shade?
Drummond suggests a "light tint" for that subtle, plumped effect—as people say about the perfect lipstick, it should be like your lips, but better. However, that doesn't mean you have to go with a light look if you don't feel that's what you want out of the procedure. "Each shade is customized to match your lip color, and what you want," he tells us. "As a professional makeup artist, I work with you to create your perfect custom shade."
How long does it last?
Drummond shared with us you can enjoy a lip tint for up to two years without any retouching. If you don't like the shade that was chosen for you, it can be adjusted after the healing process (which takes about five to ten days) is over.
Is there any pain?
A topical numbing cream is applied, so you'll feel only a light stippling sensation as the pigment is applied. As for side effects, Drummond says that if you're working with an experienced professional, you shouldn't have any issues.
---